BPT at the OLGA & PIPESIM User Group Meeting in Stavanger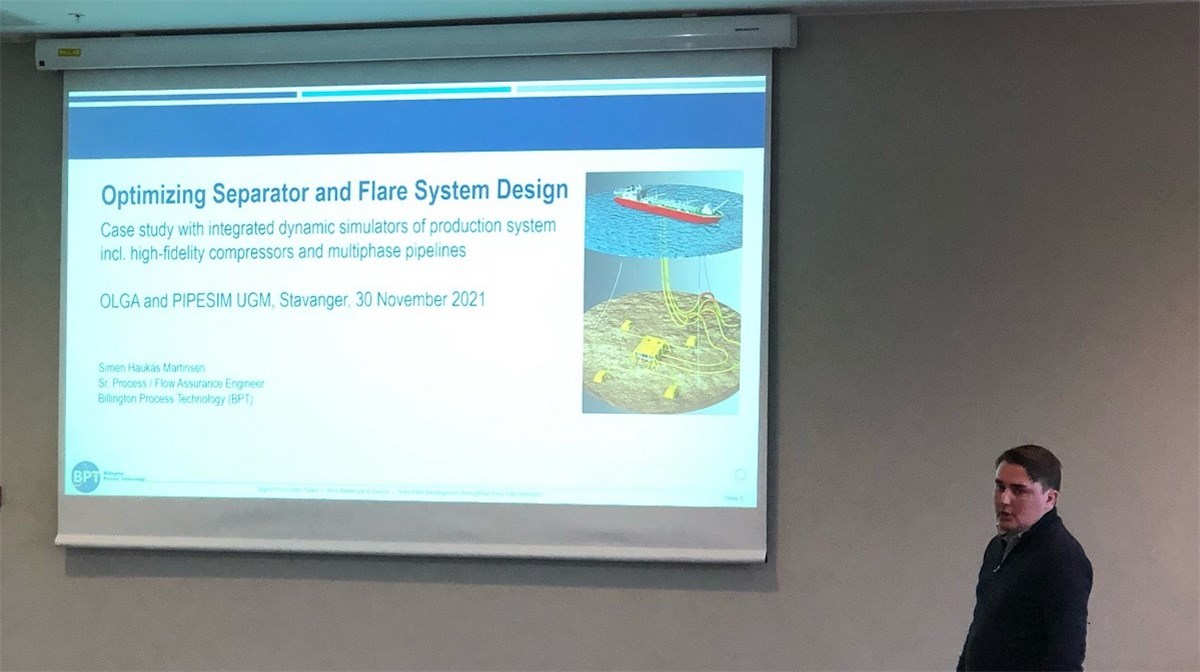 Linked transient simulators for multiphase production system and processing facility proved to add undisputed value during all field development and operational stages from concept, design and start-up throughout operation and revamp
An official spoke person at the event reported that Martinsen presented well and that his case study generated a lot of interesting questions & answers
Today BPT Senior Process & Flow Assurance Engineer, Simen H. Martinsen, presented at the Schlumberger OLGA & PIPESIM User Group Meeting in Stavanger.
Mr. Martinsen presented a case study carried out with integrated flow assurance and process simulator (interactive linked and fully transient), and highlighting the importance of including compressor blocked outlet scenarios in conjunction with the upstream facilities when evaluating flare relief loads.
The BPT specific methods is complying with the API standard 521 "Pressure-relieving and Depressuring Systems" using the BPT-CODES Software (Compressor Design and Simulation).
The Case Study
Optimizing Separator and Flare System Design - a case study with integrated dynamic simulators of production system
incl. high-fidelity compressors and multiphase pipelines. OLGA was used for the multiphase flow part, while UniSim Design was used for the processing facility, connected by the efficient, robust and accurate simulator link BPT-OLX.
Billington Process Technology (BPT) is an independent digital solution, simulation and service company with Headquarter outside Oslo, Norway. BPT has unique domain knowledge within production and process facilities. We are world-class users of process simulators, and among the specialties are compressor design as well as process safety. The BPT Digital Production Twin includes an unmatched solution for holistic sensor-correction providing invaluable data fundament for a number of advanced digital applications (ala machine learning) as well as calibrated steady-state and dynamic simulators for efficient production optimization. BPT is a frontrunner in modernizing field development approach together with innovating oil companies. A BPT specialty is to apply integrated multiphase flow and dynamic process simulators throughout the field development, commissioning, and life of field to validate and improve design as well as troubleshoot and perform production optimization.
For more information about this press release, please contact Knut Erik Spilling, BPTs Vice President for Sales & Marketing (phone: +47 90 08 79 76 or e-mail: kes@bpt.no).